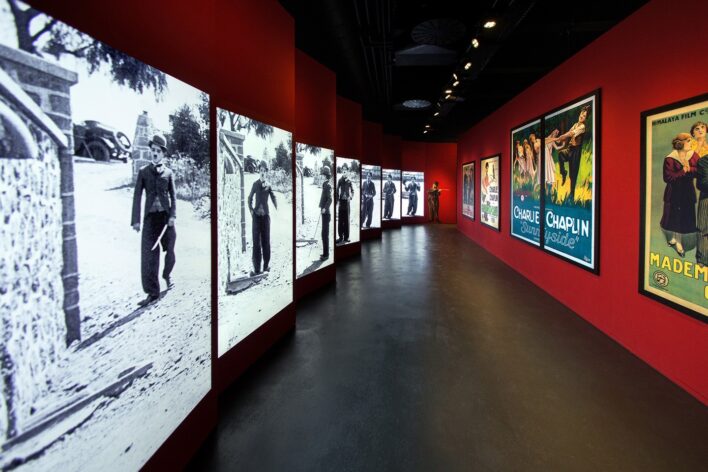 Invited by the Swiss watchmaking manufacturer Jaeger-LeCoultre I had the pleasure to learn about the artistic projects of the Swiss filmmaker Eileen Hofer at the Chaplin's World, a museum in Corsier-sur-Vevey, dedicated to Charlie Chaplin. The place was the artist's home and studio for almost 25 years.
For many years now, Jaeger-LeCoultre has been supporting artists – both behind and in front of the camera – who share the same passionate creative drive as its Manufacture watchmakers. Jaeger-LeCoultre has become a partner of Chaplin's World, happy to honor Charlie Chaplin – an artistic genius both as an actor and director.
When he settled in Switzerland in 1953, the Swiss government paid tribute to the talent of this cinematic giant with a very personal gift: a Jaeger-LeCoultre Memovox watch. This precious mechanical watch has been carefully conserved by Chaplin's family ever since and can be seen today in its original box, in the library of the Manoir de Ban.
This year the Grande Maison is proud to support the remarkable work of the young and talented Swiss filmmaker Eileen Hofer who became friend of the brand few months ago. Exhibition Tomorrow the birds will sing consists of an installation of videos filmed in the Havana interiors where the young filmmaker shot two of her films, Horizontes and Nuestro Mar.
The exhibition will be opened to the public on July 17th for a month in the attic of the Manor of Ban at the Chaplin's World.
Tomorrow The Birds Will Sing
17.07 – 17.08.2017
Chaplin's World
Photo credit: Laurent Xavier Moulin