The minimal Nightshades by Esther Mathis become even more fascinating when contemplating them from different perspectives. Depending on the point of view, the suspended intervention evolves from delicate transparent panels emitting evanescent waves of light, to charismatic opaque panels, transmitting vibrating shades of color.
While Mathis has been featured in many museums, it is her first solo exhibition at Zurich's Livie Fine Arts Gallery, founded in 2019 by the art collector couple Marie Christine Livie and Caspar Livie.
In her intervention, Mathis explores the perception of light and the color spectrum, especially focusing on the night vision where the insufficient brightness brings to life luminous shades of blue, red, green and gray.
She carefully selected colors from the RAL color system, well-known by architects and creative minds, identifying the shades with names evoking the tonalities of night such as "midnight blue", "full moon grey", or even "moon ash green". There is an interesting contrast between the industrial materials Mathis selected as a support medium to diffuse these colors and the poetic and contemplative result of these artworks.
Reflecting aluminium honeycomb grids, an industrial material reminiscent of filters used in studio photography, are here transformed into actual bodies of light due to the spray paint diffusion of matte finish colors on their surface.
Whereas wired safety glass with a glossy finish plays as a painting canvas for the wall mounted panels, creating a different effect, stimulating our visual acuity.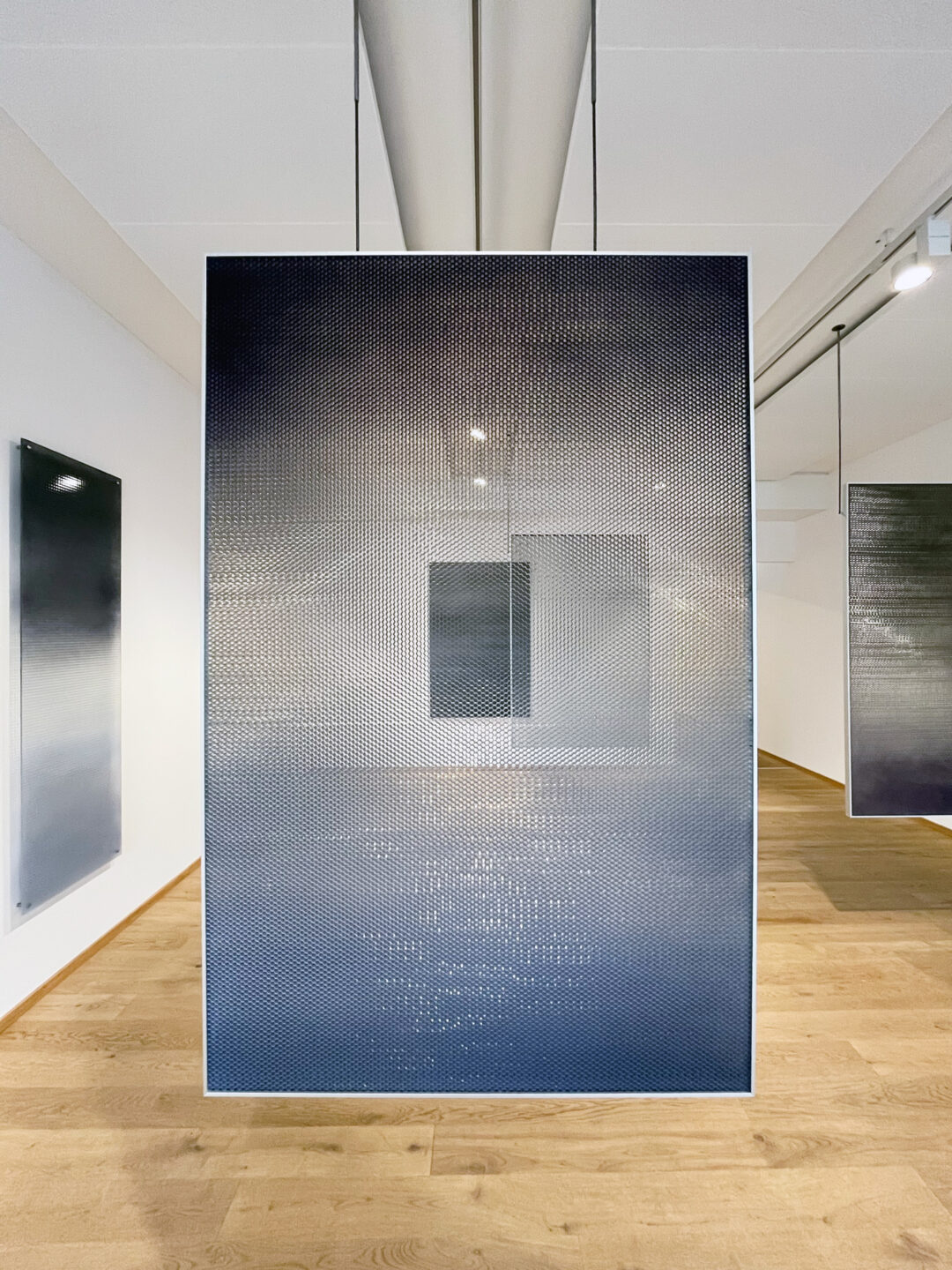 In the second room of the gallery, six photographs titled "Light Space" refer to Esther Mathis' photographic studies and emphasize the artist's interest in light and our perception of it.
The photographs on view were taken by Mathis as part of a larger project to explore the luminous ceilings of various European museums. They depict spaces inaccessible to the visitors of the museum, between the roof and the main exhibition galleries. One of these luminous ceilings is currently visible at Kunsthaus Zurich (Erwin Müller building from 1976), in the exhibition "The 2000 Sculpture" by Walter De Maria.